Featured Success Stories
Tuyen
"Thank you AsianDating!"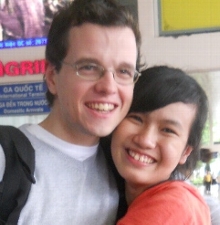 Hallo! I'm 20 years old, a little Vietnamese girl. I'm really happy now because I've found my missing piece in AsianDating. Thanks so much for making incredible relationship between us. He's from France. 24 years old, he's a chef. I met him on February 2012, and we started loving each other on March 3 2012 (3/3/2012 is unforgettable day) I think my destiny is him. After saying love to me, he booked ticket plane to fly to Vietnam on Sep 11th 2012. Every day, we chatted through skype, he called me and we started to count down together. 176 days, half of year, I wait for him and I have a happy story. He and his family spent 11 days in Vietnam with me and that was the greatest time in my life. So romantic, so warm and full of enjoyment. The day before coming back France, he gave me an engaged ring. That's a promise for making a wedding day in 5 years later. God Bless! I will never leave him , that's eternal love. I'm sure! I hope I will be the last one who company with him until the last day of my life. I want to say thank you AsianDating over and over. Next year, I will try to make visa to come France and we will enjoy happiness together. Oh god! I cry now cuz I miss him so much.
Tuyen HCM City -
Dag ivar
"Thank you AsianDating!"
Jeg fant verdens nydeligste og en helt fantastisk jente her inne:) Hun er fra Filippinene, men bosatt her i Norge. det er jenta jeg har lyst å dele resten av livet med og vi håper å kunne gifte oss innen få måneder. takk for siden deres!!
Dag Ivar og Emma
Jenylyn
"Thank you AsianDating!"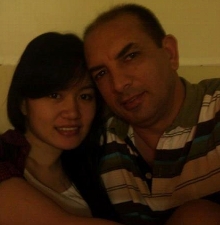 about a 1 month chat he finally come here in philippines to meet in person,,then we are happy together now,,,we plan to marry soon,,,,thank you asian dating .com...
Rona
"Thank you AsianDating!"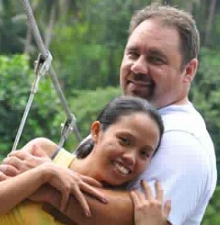 Tony & Rona
Hello Asian Dating thank you for having us here i was thankful because I found my man of my dreams here. Anyway im here to give my testimony, i know our story was everyone here. i signed in this site last April 28, 2012 after of 2 days in here i was reading of my Bull's profile in i was curious and confuse if hes really American because of his last name, after i read his profile i contact him but he ignored me...On my 2nd day i signed it again then i saw his profile in its like someone pushing me to chat him and my heart is beating so fast so i said 'why not' nothings gonna happen if i tried,..then again i did on my 2nd try ohhh thanks he replied me...so the show begin, lol( kidding aside). then we talked introduce each other and we exchange yahoo email add and decided to talked on ym and see other faces on cam hahaha...We shared pictures we talked so many things and we found out that we really have so many things in common i felt like i know him before...as i remember we talked 6pm and end up 3am but were like we don't want to stopped talking. I only slept 4 hours coz im excited to talked with him again and u know what guy's i dreamed of him, to be honest i was love at first with him..on 2nd day of our talking he introduce me to her beautiful daughter now she became my BFF. Now im going to direct my story and to be honest with you everyone, do u know i was courting him and asking him to be my boyfriend...hahaha!!!! but im proud of it because now his already my fiance, he can't say no to me because he cant resist my beauty..lol! ....Yes guy's in our 4 days of talking of my Bull we became bf and gf thats why our story is unique to everyone here, a couple of days we felt more deep feelings to each other and we believe that we are inlove to each other, and i can say hes the very nice, awesome, sweet, caring, loving and honest man that i ever meet...in short hes 'THE BEST'. I was so lucky to have him or we very lucky to have each other. flowres, chocolates, gifts etc. that the thing he gave but what matters me most is his love to me he accept me as what i am beside of demons and moodings hes the very understanding fiance ever.last month August 112012 he visited me here and our time together was very amazing we laugh, we talked a lot we joked, we never get bored to each other. August 14 he surprised me and kneel me and proposed to me we both cried and happy. we went to my province and see my family and then again he proposed me again hes so very sweet...my family and everyone there was very happy for us we will never forget our times there. The entire time him here in the Philippines was a very great memories to us we deeply and madly inlove each other im head over heels to my BULL.. Now we are processing my papers and hopefully early next year im joining him and BFF and his family i cant wait to meet them and were going to live a happy and simple life together. Everyone here don't lose hope just have faith and be nice, cause if u trully believe u will really find your true love just be patient the right man for you will come at the right time at the right place....so good luck everyone here on your searching just pray and have faith...again thank you so much Asian Dating for having us here...
Jeje
"Thank you AsianDating!"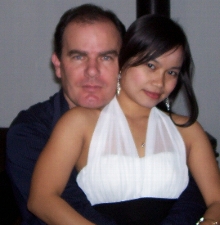 Thank you for the asiandating. I found my only one in my life and I am getting married soon. I really love my husband and i promise that i take good care of the rest of my life until the end.
Thanks.
Cupid Media, the Cupid Media Logo and AsianDating are trademarks of Cupid Media Pty Ltd.