Candy
"Thank you AsianDating!"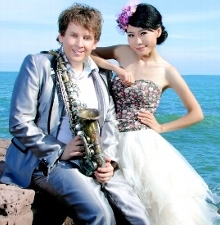 We contact each other on qq and sent letters to each other each month.
And we met in person in HongKong on 10 January.2012.And his parents were in that trip too.
We feel we are the one for each other. We met again in 30 June 2012.We took wedding photos in nanning.He went back and I am waiting for the visa.
We cant wait to see each other again.
Thomas
"Thank you AsianDating!"
Yes ! After two weeks in AsianDating, I met my Mrs. Right. We had 2 weeks email conversation, we met in video chat, and after 10 months we met first physically in the Philippines where we lived 3 weeks together. Three months later she got the visa for Germany and visited me for two months in Germany. We both are very happy, after she will have finished her studies, we intent to live together all time. Thank you, AsianDating !
Sori
"Thank you AsianDating!"
I'm very thankful to AsianDating which allowed me to find my fiance.I never expect I will be found him here and this website make our love possible.
I met him on this website around April 2012..we exchange messages on yahoo and trying to get to know each other more..He came to visit me in Vietnam on 30th June 2012 and on first of July we met each other in Ho Chi Minh.
Although only three months to talk and learn together but we realize that love and emotions from us is too bit..and after several days side by side we got married on 13th July 2012.
Finally our dreams came true as I can come to his place with love.We are both in love and together, right now were married. happy and contented with each others love.
Thank you so much AsianDating our love came true!.and good luck with other members..don't lose hope true love will come and you will know it and you will feel it..best wishes to all!
Charles
"Thank you AsianDating!"
Thank you Asian Dating.com
I am now happily married to the most beautiful woman in the world. This online services and God has blessed our union. We both agreed that God has made us complete and destiny has a new beginning. Thanks for everything
Pascal
"Thank you AsianDating!"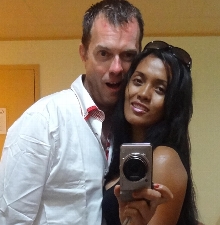 from Pascal and Vic
We like to thank Asian dating coz we found my soul mate and my love...we first chat on Feb 2,2012 and continue talking in yahoo knowing each other.. He went visit me in Philippines last may 26,2012 and we travel in places like siargao island.We do surfing,island tours in naked island,we go in Cebu,in el nido palawan by motor bike. we did scuba diving too.We are happy and in love with each other..as he will come back in July to plan our wedding by December.thank u so much Asian dating and good luck with other members.don't loose hope true love will come and u will know it and u will feel it..best wishes to all