Storie di successo...
Siriwan
"Thank you AsianDating!"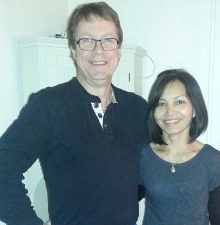 Hi Asian Dating!
I have meet a nice Swedish man here on this site. I am happy we found each other, thanks to you. We have been dating since mid January now and we have lots of fun and laughter together. Although we live some way apart we see each other quite often. Maybe son we will move on and start living together, future will tell :-) Once again, thanks to you in Asian Dating
Chau
"Thank you AsianDating!"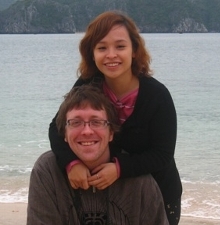 Thank you so much Asian Dating site, you guys have done a great job so far. I used to think I would never find anyone 'online' My bf first talked to me on Friday the 13th July 2012 haha...I had no idea id even like him cos he's an English guy, he's tall, he's far from me....i even said to him I hate English accent =)) He admitted that he did like me after 2 weeks talking but he knew itd be hard to gain my heart..he kept trying n made me smile, happy all the time. After 2 months,...i even didnt know i fell for him already. We started our relationship even though we do know long distance might be the scariest thing He came to visit me n my family in Vietnamese Lunar New Year, just stayed for 2 weeks then we are being apart again. We did make our own plan n hope for the best n promise never stop trying Soooo..once again, thank you so much Asian Dating :) And for those who havent found 'the one' yet...well, You will fall in love with the most unexpected person at the most unexpected time....dont ever give up, love will find you Wish you all the best Buffy and Stevie
Yumi
"Thank you AsianDating!"
Thank to Asiandating. Thank you so much guys,for this site. Finally I found my husband here. I've been here for a reason,and just want say thanks a lot for you guys. Team Asiandating Finding right person to be first and last, I really grateful and blessed.im so happy to found him. I've been chatting with many guys here,with different type. Always keep hope,and never give up for searching ,then finally on march 2012 we start to chatting and continue.i felt like I'm in love since I saw him for the first, then we chatting everyday for many many hours,yahoo,Skype,Facebook,and phone, Have no day without Internet, On April 2012, he was holiday to Bangkok,Thailand stay for 3 week,then he ask me come to BKK, April 14th I'm going to BKK and he pick me up there, for Teh first I met him, oh my God, he is so so handsome,my heart beating so fast, that for the first we met in real, and we happy each other spend time in there. 10 days we've been together. After 10 days,I'm going back to Jakarta and he going back to Norway,we carrying together,so so sad leaving each other, but he promise me, he will visit me in Jakarta and meet my family. Then on July 28 2012,he come to Jakarta,we brought both ring engagement,then we going home to my family at purwokerto Central Java. My family so happy to see him to be part of my family, then August 11 he have to leave indonesia, and we have to be apart for 5 month,and december 24 he come again to indonesia, for married. And finally we are husband and wife now since December 28 2012,and we spend our honeymoon at bali island, And again,because my visa still not ready,I can't come with him to Norway,of course I have to wait again, My husband was crying a lots,and me too. So sad we have to be apart again, I hope before may we can see each other again,we planning for married in there, my husband country when everything is ready,
And again,thanks a lot to team Asiandating God bless you,
With love, Kim Oslo.Norway Yumi , Jakarta. Indonesia
Lynn
"Thank you AsianDating!"
I have met the love of my life, we are waiting for the last hearing , then we will be almost done and she will be my bride for life.
Sweety
"Thank you AsianDating!"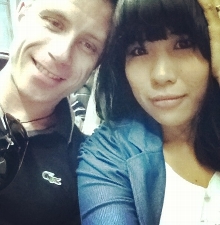 Thank to Asiandating. Thank you so much guys,for this site. Finally I found my husband here. I've been here for a reason,and just want say thanks a lot for you guys. Team Asiandating Finding right person to be first and last, I really grateful and blessed.im so happy to found him. I've been chatting with many guys here,with different type. Always keep hope,and never give up for searching ,then finally on march 2012 we start to chatting and continue.i felt like I'm in love since I saw him for the first, then we chatting everyday for many many hours,yahoo,Skype,Facebook,and phone, Have no day without Internet, On April 2012, he was holiday to Bangkok,Thailand stay for 3 week,then he ask me come to BKK, April 14th I'm going to BKK and he pick me up there, for Teh first I met him, oh my God, he is so so handsome,my heart beating so fast, that for the first we met in real, and we happy each other spend time in there. 10 days we've been together. After 10 days,I'm going back to Jakarta and he going back to Norway,we carrying together,so so sad leaving each other, but he promise me, he will visit me in Jakarta and meet my family. Then on July 28 2012,he come to Jakarta,we brought both ring engagement,then we going home to my family at purwokerto Central Java. My family so happy to see him to be part of my family, then August 11 he have to leave indonesia, and we have to be apart for 5 month,and december 24 he come again to indonesia, for married. And finally we are husband and wife now since December 28 2012,and we spend our honeymoon at bali island, And again,because my visa still not ready,I can't come with him to Norway,of course I have to wait again, My husband was crying a lots,and me too. So sad we have to be apart again, I hope before may we can see each other again,we planning for married in there, my husband country when everything is ready,
Sorry guys my English still not good enough, And again,thanks a lot to team Asiandating God bless you,
With love, Kim , Oslo.Norway Yumi , Jakarta. Indonesia