Témoignages
John
"Thank you AsianDating!"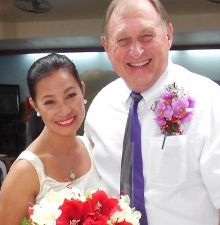 Thank you, Asian Dating. With the help of your site and God's intervention, I was able to find, meet, fall in love with and marry the love of my life. We first showed interest in each other on July 15, 2011. We then exchanged email, chatted and used video chatting for three months until we became very close. Then we knew the only way to confirm our feelings was to meet in person. I arrived in the Philippines on Nov. 3, 2011, for the most wonderful seven days of my life. We met and knew immediately that we were soul mates destined to share a life together. I departed Nov. 11, 2011, and we immediately began planning for our marriage in 2012. After more weeks and months of online bonding and planning, we designated Sept. 2012, as the month for the BIG DAY. On Sept. 24, 2012, we became husband and wife and celebrated in fine Filipino tradition. We now wait for the processing to be completed so Isabel can join me in the USA and begin to live together for the rest of our lives. I am the happiest man on earth, and I want the world to know it. To all of those using your site and are committed to finding the love of your life, GO FOR IT! He/she is there and waiting for you. Thanks again AsianDating. Sincerely,
Darren
"Thank you AsianDating!"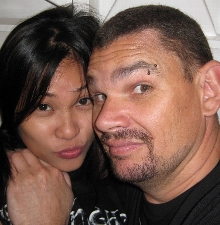 This is a dream come true, Ive meet the most wonderful lady though this site. I love you so much Arlyn & you make me complete... Muah
Nicholas
"Thank you AsianDating!"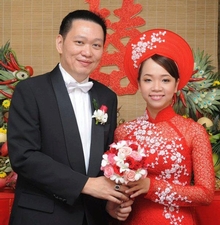 We got to know each other from thousand miles away, and shared every happy moment and passion of life. We just had our wedding lately and started our happy life. Thanks Asiandating for making the miracle happened.
Francisco
"Thank you AsianDating!"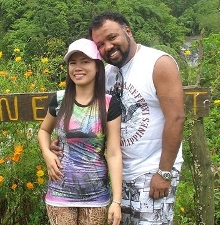 After being on Asiandating for about 5 months I found the woman of my dreams through this site. She is everything I hoped and dreamed for and after chatting with her for 4 months I decided to meet her in person and I came to the Philippines to be with her....I was able to meet her entire family and we have plans to marry and build a family.....Again thanks to this website for their help in making our dreams come true....
Isabelita
"Thank you AsianDating!"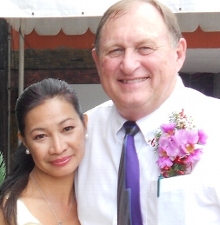 Dear team AsianDating,
I can't wait that it will be featured here to inspire other members of this site. I and John started our communication last July 14, 2011 and decided to see me in person last November 3, 2011. We easily get close and kept our burning feelings as we were counting the days on the calendar for his next trip. Recently, he returned last September 5, 2012 and we got married on September 24, 2012. Thank you very much AsianDating for being a strong bridge from US to the Philippines. More power!!
Isabel and John
Cupid Media, Le logo Cupid Media et AsianDating sont des marques deposées de Cupid Media Pty Ltd.